Every year countless small, independent designers and brands across the country eagerly wait for two of India's biggest shopping weeks the India Fashion Week and Lakme Fashion Week. However, this year, things are different as designers face the stark reality of a changed business scenario post pandemic. The two shows took a digital form this year rather than the usual high-energy physical event.
Realizing the importance of craftsmanship
The pandemic highlighted the pressing need to support artisans who are an important part of the value chain. Designers like Sabyasachi Mukherjee have accepted the importance of supporting artisans. He ensured the well-being of 1,700 strong workforce in the past few months. Along with designer Rahul Mishra, he participated in the India Couture Week, organized digitally by the Fashion Design Council of India from September 18-23, 2020. Mishra launched 'Lotus Pond' a collection that focused on exceptional embroidery done by artisans.

The importance of craftsmanship in these turbulent times was also highlighted by brands like Nappa Dori, whose stores in Delhi, Mumbai and London sell finely crafted leather bags, satchels and accessories made by New Delhi artisans. The brand plans to launch a new homeware range called 'Dori Living.'.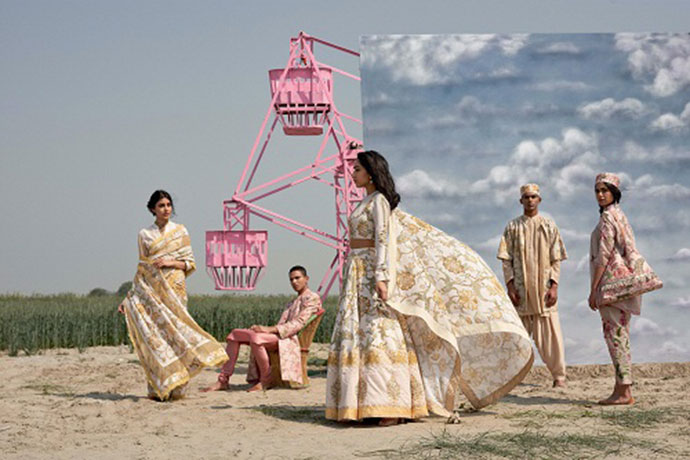 Designers launch new business models
Meanwhile designers in New Delhi and Mumbai have been opening new direct-to-consumer (DTC) channels. Gautam Sinha, Founder, Nappa Dori, believes, to drive traffic for an e-commerce site, brands need to advertise it. Smaller brands are unable to bear these advertisement costs. Hence, they look forward to well-timed and well-executed fashion shows. However, there is a fear among designers fear that digital formats are unable to generate the same buzz as physical shows. Then there is the challenge of attracting wholesale buyers, with reports of a sharp drop in sales due to COVID-19.
New business models are being adopted to tide over the crisis. Lakme has launched a new virtual showroom to facilitate B2B transactions and the hub where all the content will reside. The hub will provide a new digital experience for audiences to 'shop off the runway' and even choose camera angles to augment the viewing experience.
Gautam Sinha, Founder, Nappa Dori, believes, to drive traffic for an e-commerce site, brands need to advertise it
An opportunity to focus on the detailing of bridal wear
Strict government rules have squeezed the shine out of Indian bridal war market. However, some bridal designers view this as an opportunity to shift focus to the craft and detail of bridal garments. Though they expect occasion-based bridal wear to continue dominating the market, day wear from international luxury brands and Indian designer wear may have to struggle.
Aashti Bhartia, Managing Director, Ogaan points out, people are either buying things that are well-priced and easy to wear or special things for specific occasions. Darshan Mehta, President and CEO, Reliance Brands, notes a distinct shift towards comfort wear whether it be sneakers and slip-on footwear, polos and casual linen-wear or tracks and loungewear. Some feel the pandemic has created an opportunity to push forward the vision of their brand. And many have moved their retail online or operate through WhatsApp.