Lenzing expands its REFIBRA technology to mark one year since the debut of carbon-free TENCEL branded fibres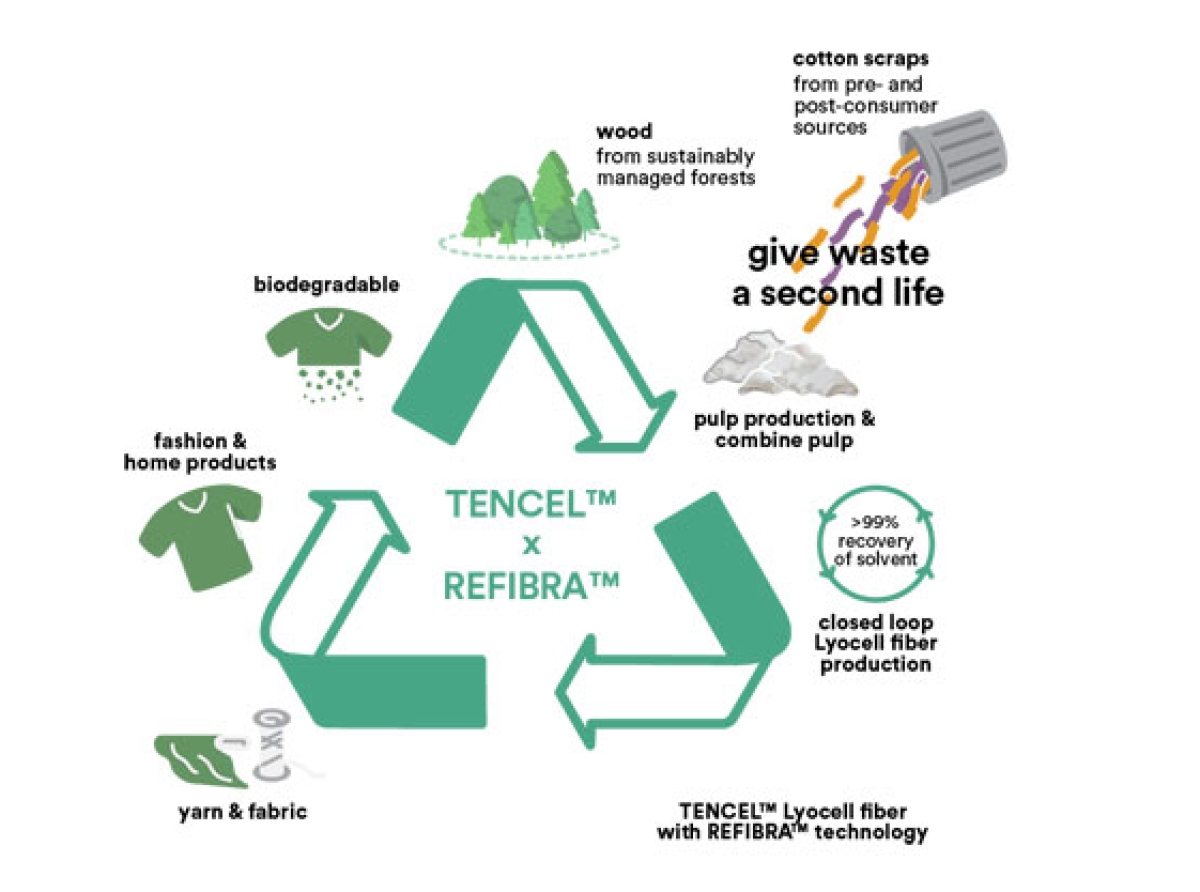 13th October 2021, Mumbai:
The Lenzing Group today announced the extension of carbon-zero TENCEL branded fibres to REFIBRA technology to meet the rising industry demand for 'circular fashion' and carbon neutrality on the first anniversary of the introduction of carbon-zero TENCEL branded fibres.
Last year's launch of the first carbon-free TENCEL branded lyocell and modal fibres has continued to gain traction among industry partners, including fashion companies and mills.
The extension, which will be available in September 2021, seeks to give more creative options for fashion businesses to fulfil carbon reduction objectives while also allowing customers to enjoy sustainable goods, strengthening Lenzing's commitment to reaching net-zero CO2 emissions by 2050.
The expansion underscores Lenzing's unwavering commitment to creating a genuinely sustainable textile sector, not just by lowering carbon emissions but also by increasing circularity with the REFIBRA technology.
Cotton leftovers from garment manufacture are upcycled and turned into cotton pulp in this ground-breaking process. To make virgin TENCEL Lyocell fibres, the cotton pulp is mixed with sustainably produced wood pulp.
Lenzing's continued commitment to the Science-Based Targets (SBT) project and support for the United Nations Sustainable Development Goals to minimise global warming is reinforced by this invention.
"Although more supply chain partners, brands, and retailers are proactively searching for ways to reduce carbon emissions to align with the United Nations' global climate goals," says Florian Heubrandner, Vice President Global Textiles Business at Lenzing AG, "the textile industry still has a long journey ahead of it to reach its goal of carbon-zero status."
"We believe that by sharing our newest breakthroughs, such as carbon-zero TENCEL branded fibres with REFIBRA technology, we will make carbon-zero efforts mainstream practises.
Companies across the fashion and home segments are actively reviewing their raw material usage to go carbon-zero, from leading Chinese lingerie brand Aimer to Chinese premium home textile brand Luolai, German fashion label ARMEDANGELS, Danish clothing label Selected FEMME, Korean fashion brand Cozynet, Portuguese premium fabric producer and intimate brand IMPETUS to US-based home furnishings retailer West Elm.
And there's more! Lenzing is also working closely with supply chain partners such as Al Karam, Calik, Samil, and WTS to develop raw material utilisation and technology in order to deliver new sustainable fibre types to the textile market, using a "reduce-engage-offset" strategy.
TOP 5:
1. Flipkart, an Indian e-commerce company, collaborates with PUMA on the '1DER' line, which features batsman KL Rahul
2. Consumers will determine growth of sustainable fashion e-comm in India
3. Myntra to offer 1 mn styles from about 7,000 brands at the 'Big Fashion Festival'
4. Maharashtra government honors VIP as 'Best Innerwear Brand' for 2021-22
5. Nike strengthens retail presences with new store at DLF Mall of India,Noida